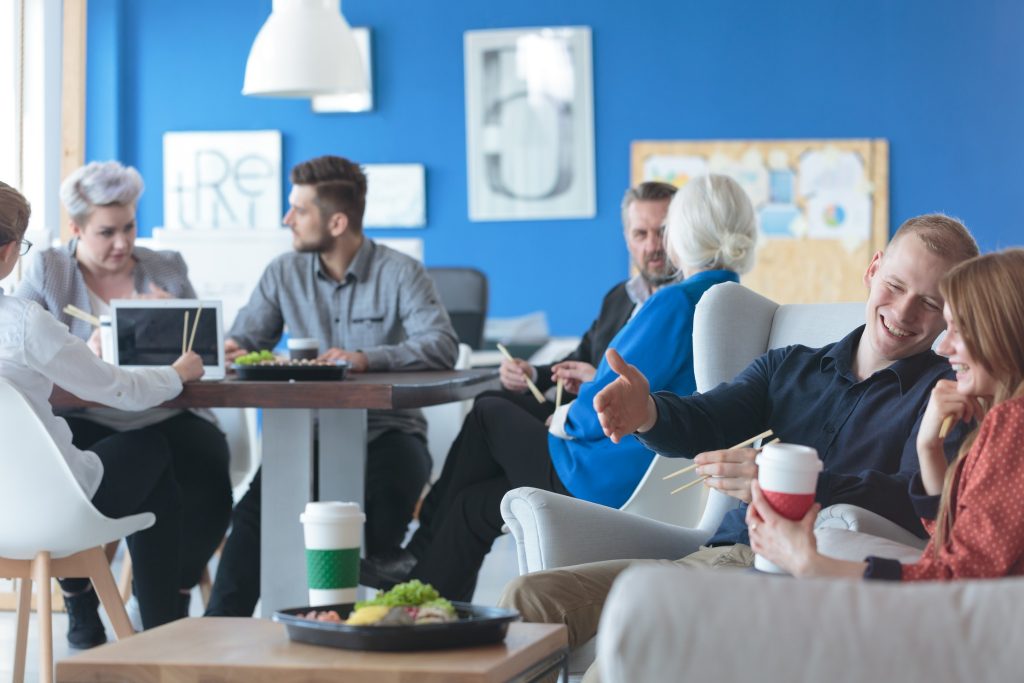 The right service partner provides the best break room essentials. Thus, your Louisville break room will be fully stocked with everything your team needs. From coffee to the latest creamers, Total Vend can transform your ordinary break room into an employee oasis.
Need more convincing? Here are three reasons why our services are break room must-haves.
1. Fresh, Flavorful Office Coffee
A top-shelf Louisville office coffee service is a break room necessity. For starters, caffeine energizes sluggish workers. This improves focus and concentration levels. Employees suffering a midday slump can get an instant energy boost. Additionally, employee perks, like coffee, boost office morale. Employees are more motivated and may work harder. They are more likely to stick around, which can increase retention rates.
At Total Vend, we are proud to offer a variety of office coffee solutions. For instance, we have traditional and single-cup brewers. Traditional brewers make coffee by the pot. They're great for offices with large coffee consumption. On the other hand, single-cup brewers make coffee by the pod. Users can customize their favorite flavors. Furthermore, the coffee is always made fresh.
2. Single-Serve Options
Offices are bustling with activity. Employees are always on the move. As such, your break room needs to have grab-and-go options. Cold drinks and packaged snacks make it convenient—and easy—for employees to stay fueled.
Louisville vending machines make it simple for busy employees to nourish their bodies. Firstly, vending machines are always open. Employees have 24/7 access to food and cold beverages. At Total Vend, we carry many popular brands, including Dr Pepper, Vitamin Water, and Lay's. Your staff can always get their favorite flavors.
Additionally, snacking has become more ubiquitous in offices. Oftentimes, employees will replace meals with snacks. Therefore, you should offer a greater number of options. A Louisville micro-market will do the trick! These self-serve mini-stores hold many foods and drinks, including healthy meals. For instance, fresh wraps and salads are available in the glass-front coolers. Best of all, everything is packaged for a single person. This makes it easier to eat better.
3. Break Room Essentials Include Stellar Service
Lastly, your break room needs continuous servicing. Louisville coffee products and grab-and-go foods are great. But what happens if something breaks? That's where Total Vend rides in to save the day. Our dependable technicians are on hand if you have any issues. We strive to deliver timely and effective solutions.
Furthermore, we'll keep your vending machines or micro-market fully stocked. You have the benefit of refreshments for your team without time-consuming inventory or trips to the store. We'll keep a close eye on your inventory levels and restock when needed.
Total Vend Has All of Your Break Room Essentials
Need fresh office coffee? How about single-serve snacks? Total Vend provides all of these and more. Plus, we back our products up with superior services. Whether you need micro-market or vending solutions, we can help.
To learn more, call us today at 502.451.0111. We have all of your break room essentials!